OMNICHROMA
Universal Shade Matching
Omnichroma is the first universal composite that offers one shade to match almost all patients. The red-to-yellow structural colour generated by Omnichroma combines with the reflected colour of the surrounding tooth and creates a match for almost every patient.
Aesthetics
Glossiness - In polishability tests, Omnichroma is shown to produce high gloss.
Stain Resistance - The extent of staining for Omnichroma was low when immersed in coffee for 24 hours at 80°C. Omnichroma will resist staining for the life of the restoration.
Strength
The high compressive and flexural strength of Omnichroma ensures clinically acceptable results.
Wear Resistance
Omnichroma exhibits an excellent balance between volume loss of the composite resin and wear of the human tooth.
Inside the technology: Structural Colour
Through the utilization of Tokuyama's spherical fillers and Smart Chromatic Technology, Omnichroma is the first use of structural colour in composite dentistry. Omnichroma's structural colour mechanism is made possible by the precise shape and size of the filler within the composite. The 260nm identical spherical fillers of Omnichroma are the correct size and shape to produce the effects of structural colour to match the surrounding tooth colour.
Omnichroma Fillers generate red-to yellow structural colour as ambient light passes through the composite, without the need for added pigments and dyes. The red-to-yellow colour combines with the reflected colour of the patient's surrounding dentition, creating a match from A1 to D4 and beyond.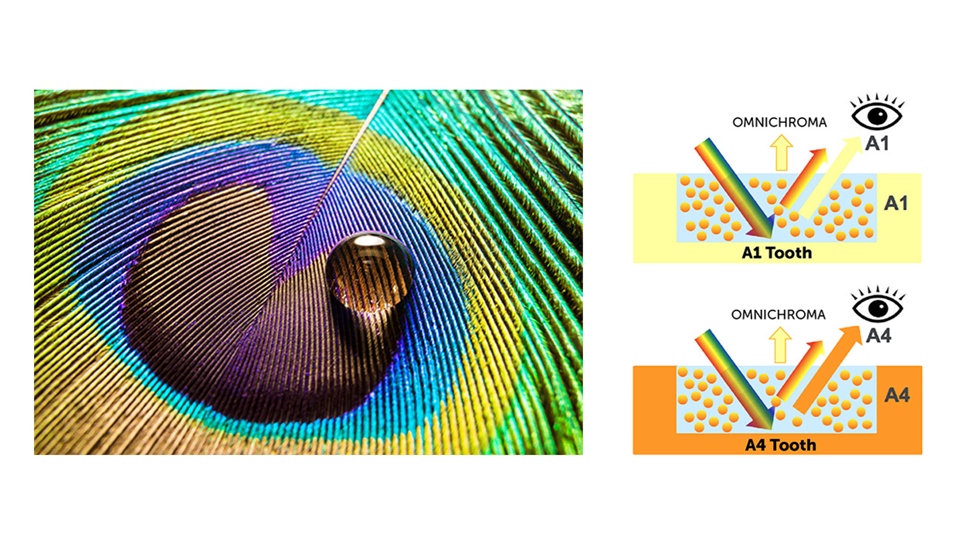 Inside the technology: Colour and Composites
All smiles have something in common, and that is the colours that make up human teeth shades. From A1 to D4, all shades of teeth express a narrow range of red-to-yellow colour.
To match every smile, many composite brands require multiple shades. That's because many composites today depend on the colour of red and yellow dyes added to the resin material to emulate tooth shades. This means that dentists must keep a large inventory of different composites to accommodate a variety of patients. With Omnichroma's Smart Chromatic Technology, this is no longer the case.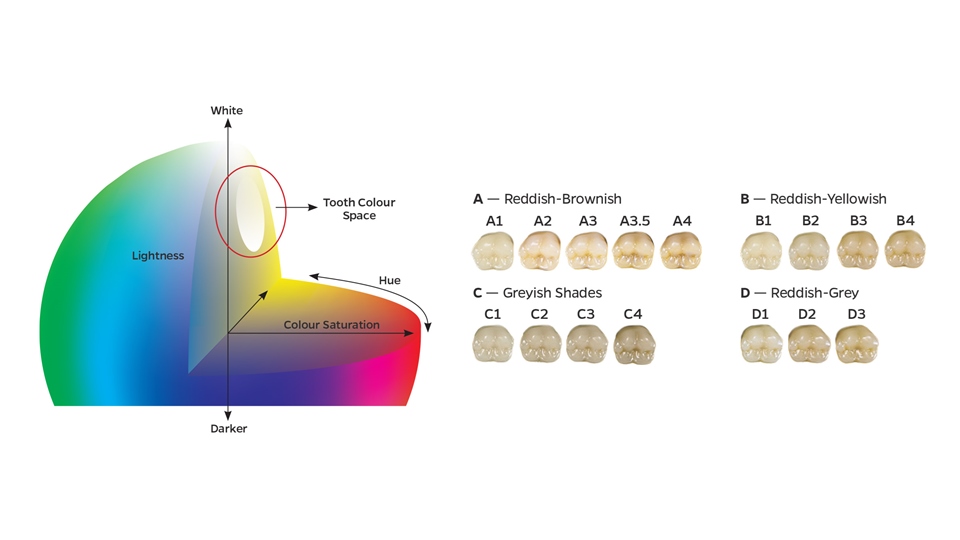 Clinical Case Use Examples
Omnichroma uses a standard universal procedure. The paste is opaque-white before curing, allowing for high visibility and easy placement. After curing, it becomes natural in appearance and matches the colour of the surrounding tooth.
Cases with Limited Tooth Structure Example
In large Class III and IV cases, Omnichroma may experience shade-matching interference due to a lack of surrounding dentition. Omnichroma Blocker is a supplementary material to be used in conjunction with Omnichroma as a lingual layer to prevent shade-matching interference in these cases. Omnichroma Blocker can also be used to mask slight staining or to reconstruct a highly opaque tooth.