Award Winning Composite
Winner of Dental Advisor Top Universal Composite 2021 - 12 Consecutive Years!

Estelite Sigma Quick is a universal, supra-nano filled dental composite that utilizes 100% spherical fillers (82% by weight/ 71% by volume). This world-class technology delivers a flexible shade matching process, exceptional esthetics and long-term wear resistance.
Simple
Utilizing supra-nano spherical fillers, one shade can invisibly blend within several shades.
Creamy, non-sticky consistency for easy handling.
Extended working time of 90 seconds under ambient light, with only 10 seconds light-curing.
Beautiful
High diffusion and refraction of light results in a blending effect.
Resists slumping for effortless sculpting.
Exceptional polishability reaching over 90%* glossiness in only 60 seconds.
Lasting
Long-term wear resistance.
Low 1.3% linear shrinkage resists marginal leakage.
Low shrinkage stress for lasting patient comfort.
Retained levels of surface smoothness for a lasting polish.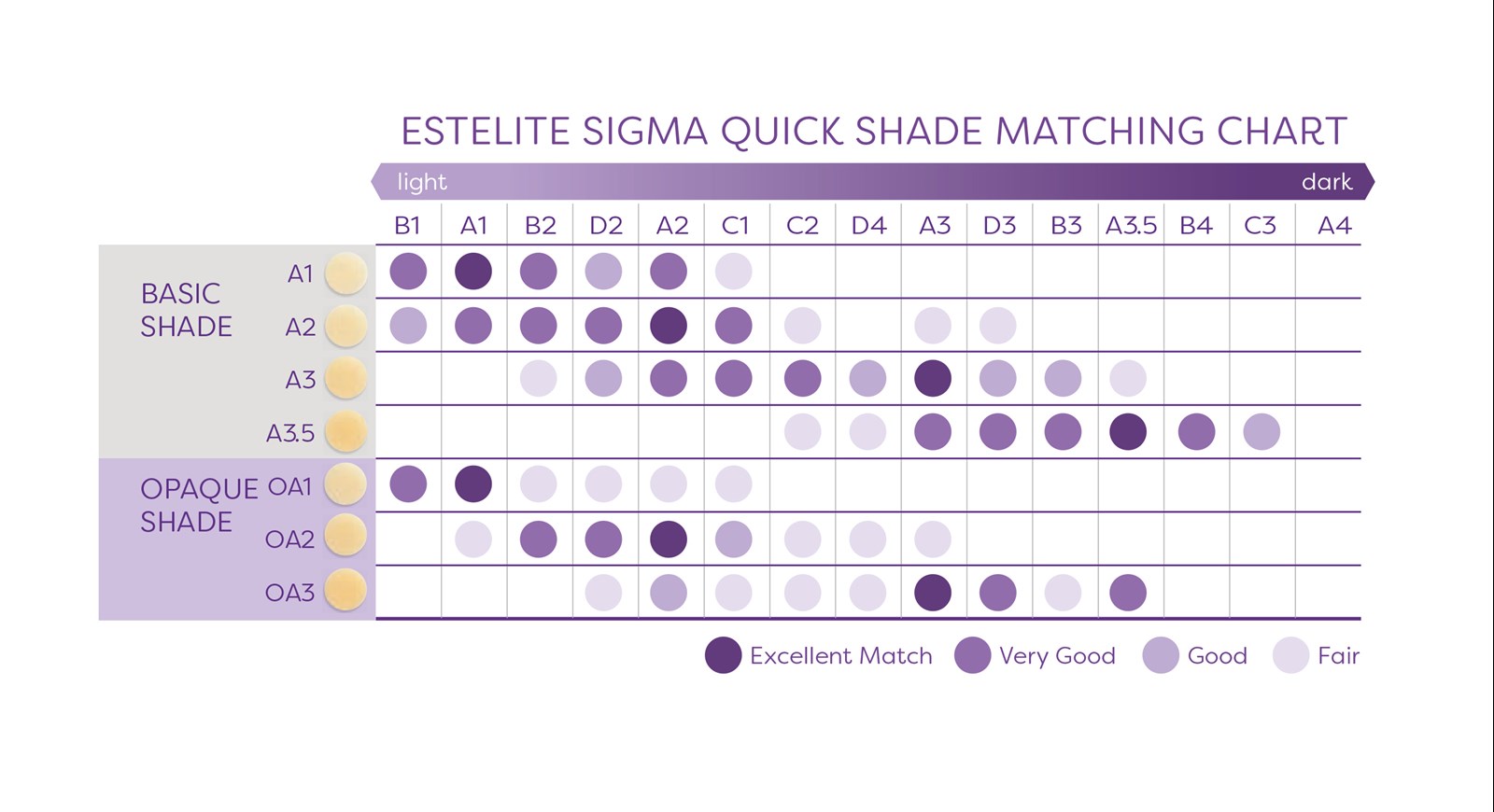 *Tooth shades are selected according to the VITA Shade Guide. VITA is a registered trademark of VITA Zahnfabrik H Rauter GmbH & Co. KG.
Spherical Filler Technology
Developed over 25 years ago by Tokuyama's Research & Development Team in Japan, Estelite's spherical filler particles have won numerous awards for delivering benefits to Dentists and patients alike. With an average particle size of 200 nanometers (supra-nano), the spherical filler particles are the foundation to delivering simple, lasting and beautiful results.
Other dental composite brands contain irregular-shaped sized fillers, which interfere with polishability, shade blend-ability and longevity. However, as a result of the revolutionary spherical filler technology, Estelite dental composites exhibit exceptional aesthetics while maintaining excellent physical properties, a signature feature of Tokuyama Dental's composites.
Resources